Itís Crunch Time: Make Your MU Decision Now !

Are you seeing Medicare Patients?
Did you start Meaningful use yet?
Act Now if you have not started Meaningful Use! If you are demonstrating meaningful use for first time in 2014 and if you are not attesting before October 1, 2014, There will be 1% penalty on 2015 Medicare Reimbursement.

Are you Medicaid & Medicare Provider?
You can not Adopt, Implement or Upgrade in 2014 even if you are participating in Medicaid Incentive program to avoid 1% Penalty.

When can I start MU?
Call Today and Schedule Now! Upgrade with MU Stage 2 certified DigiDMS EHR. Wide Meaningful use library of help files and video tutorials will get you started as early as you like..

I can not Implement MU
Refer to Filing Hardship.

What If I don't do Meaningful Use?
There will be penalty of 1% in 2015, 2% in 2016. The penalty will increase 1% every year up to 5%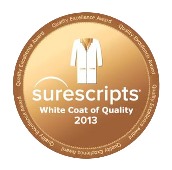 DigiDMS receives Surescripts 2013 White Coat of Quality Award
Surescripts connects pharmacies, payers, PBMs, physicians, hospitals, HIEs and EHRs to more easily and securely share health information.

MU Quick Reference

Medicare Incentive Program
Starting Meaningful Use in 2014?
Demonstrate MU for any 90 Days before September 29, 2014.
Attest before October 1, 2014.

Started Meaningful Use before 2014?
Demonstrate MU for any quarter of '14
Attest before February 28, 2015.

Medicaid Incentive Program
Starting Meaningful Use in 2014?
Seeing Medicare Patients?
Demonstrate MU for any 90 Days before September 29, 2014.
Attest before October 1, 2014

Not seeing Medicare Patients
Get MU Certified version
Attest for Adopt, Implement, Upgrade before February 28, 2015

Started Meaningful Use before 2014?
Demonstrate MU for any quarter of '14
Attest before February 28, 2015.

PQRS Program:


Preferred Option 1:




Submit Individual Measures via Claims for more than 50% Medicare patients seen in year 2014.





Preferred Option 2:




Select Group Measures and Report Via Registry for more than 20 Medicare patients seen in 2014.



eRx Program:


Starting year 2014, eRx Program is completed and you are not required to submit eRx code in claims.



Determine
Meaningful Use Participation Timeline